How to get Microsoft Office 365 for cheap
Even at its list price of $70 per year, a personal subscription to Microsoft 365—or Office 365, as it used to be called—is one of the better deals in tech.
That subscription gets you full access to Microsoft's Office suite along with 1TB of OneDrive cloud storage. I've been a mostly satisfied subscriber for years, partly for the Office software, though mainly to access my photos, documents, and personal music library from any device. (Those are just the tip of the benefits iceberg though; here are six reasons why a Microsoft 365 subscription is worth the money.)
But part of that satisfaction comes from never paying full price in the first place. Instead, I've made a point of buying Office 365 discount codes on eBay, using them to renew my subscription in one-year increments. These codes are often on sale for as little as $45, and have been readily available every time I've checked. (Here's one example.)
To find these Office 365 discount codes, just search for "Office 365 Personal" and look for listings that offer a one-year or 12-month subscription. Make sure that listing includes a picture of the product advertising a one-year subscription for one person, and that the seller has a large number of positive feedback ratings.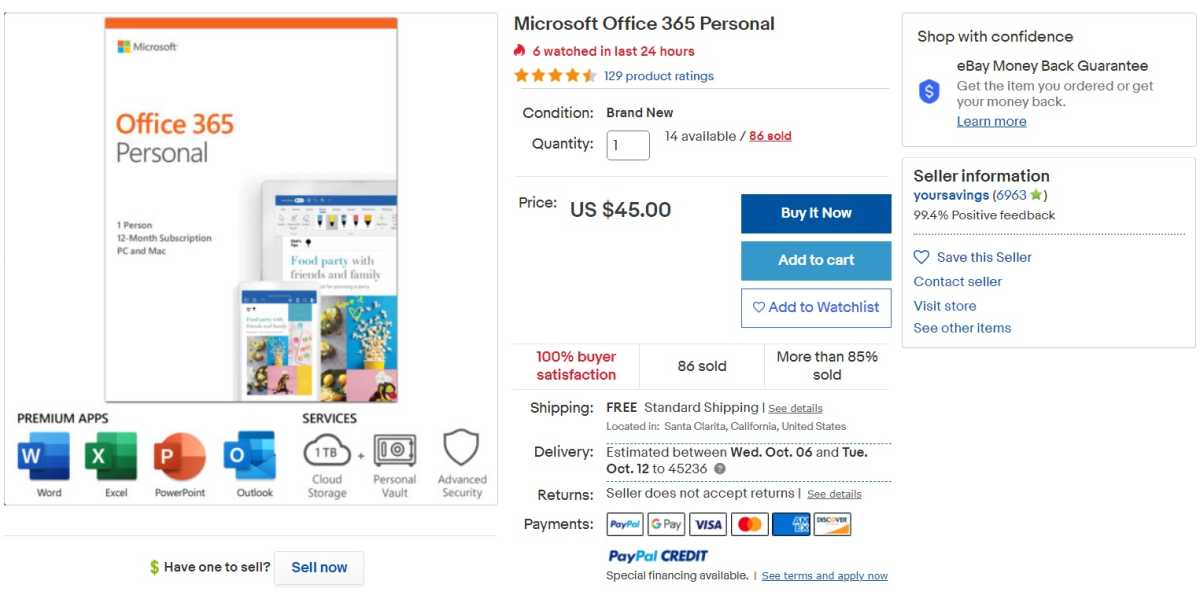 Look for an indication of a one-year subscription, along with a strong seller reputation when buying Office 365 subscriptions on eBay.
Jared Newman / IDG
Alternatively, if you're looking for a family subscription, search for "Office 365 Home Premium" instead. These tend to be a bit pricier, but allow up to six family members to each have their own 1 TB of OneDrive storage.
A couple words of warning:
Do not, under any circumstance, purchase a "lifetime" subscription to Office 365, no matter how low the price is. These likely come from unscrupulous sellers distributing shared or stolen accounts, and and even if they work, you won't be able to use them with your existing Microsoft account.
Avoid buying from international sellers, and watch out for the shipping price. Most sellers don't tack on a shipping fee, but some do.
Once you place the order, you should receive a physical card in the mail containing a code that you can redeem on Microsoft's Office setup site. Sign into your Microsoft account on that site and apply the code. If you already have an active subscription, Microsoft will simply push back your renewal date by 12 months.
During this process, Microsoft might also offer you a bonus month if you turn on auto-renew; you can turn it back off right after signing up and still get the extra month tacked on.
Just remember to repeat this process once per year and you should be able to enjoy Microsoft 365 at a deep discount for years to come. While you're hunting for Microsoft discounts, if you're a gamer, here's how to get Xbox Game Pass Ultimate for cheap too. (And yes, despite the Xbox name, that includes access to well over a hundred PC games in Netflix-like fashion.)
A version of this story originally appeared in Advisorator, Jared's weekly newsletter for making sense of technology. Sign up to get tech tips, deals, and advice in your inbox.
Microsoft 365 hit by new outage causing connectivity issues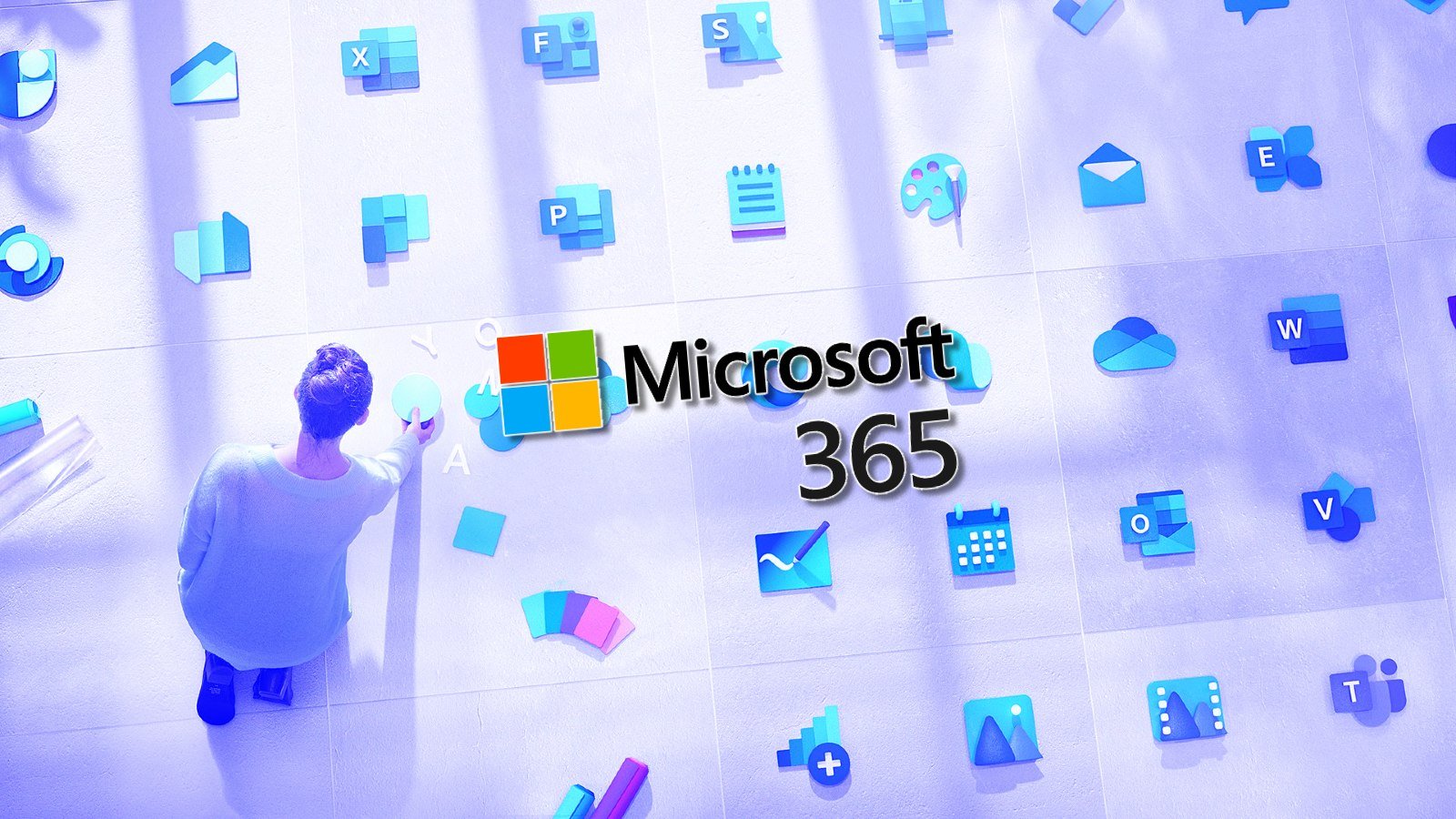 Microsoft is investigating service issues preventing users from accessing their Microsoft 365 accounts and blocking access to installed apps.
The company confirmed the issue in a tweet shared via the Microsoft 365 Status account and pointed admins to the Microsoft 365 Admin Center for more details.
"We're investigating an issue affecting access to https://msft.it/6016gbJ06 and Microsoft 365 apps," the company said.
"Additional updates can be found at https://msft.it/6017gbJ0B under MO559201."
Affected customers report experiencing issues accessing their Outlook mailboxes and an inability to connect to the Microsoft 365 servers.
"We received reports that this impact manifested for users primarily in the North America, Poland, and United Kingdom regions, though users in other regions also may have been affected," the company said in the MO559201 alert.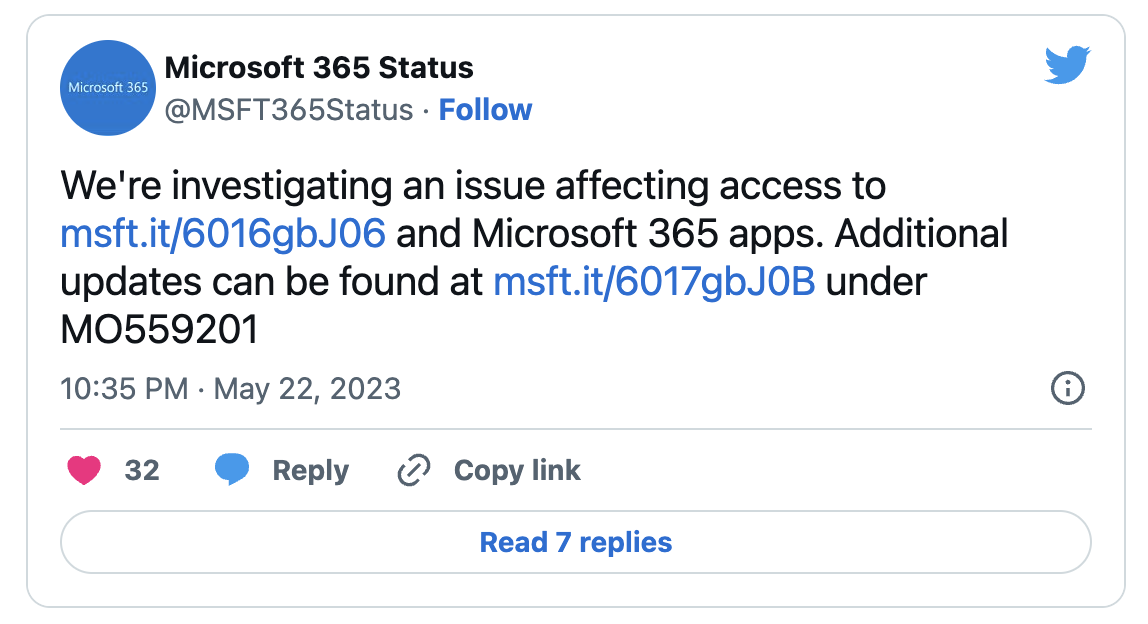 ​Last month, another Microsoft 365 outage caused Exchange Online connectivity issues for users in North America.
In March, one more service outage blocked Exchange Online customers worldwide from sending and receiving emails or accessing their mailboxes.
A massive outage also hit Microsoft 365 in January, an incident caused by router packet forwarding issues within Microsoft's Wide Area Network (WAN) after a faulty router IP address update.
Update: Microsoft says the issues have been addressed.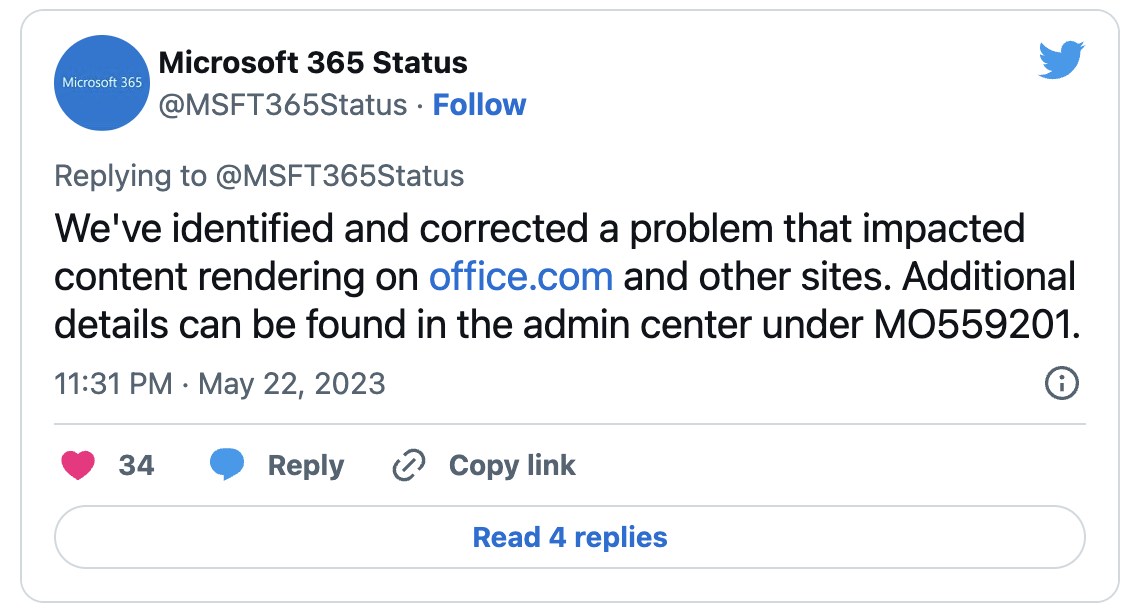 Microsoft Office for Mac & Microsoft 365 Deals
Deals at a glance
Lifetime Office for Mac Home & Business 2021 license: $39.99 at StackCommerce (84% off)
Microsoft 365 Family: $99.99/year at Amazon
Microsoft Office Home & Student 2021 | One-time purchase for 1 PC or Mac| Download: $149.99 at Amazon
Get Apple News Directly in Your Inbox

Microsoft Office for Mac vs Microsoft 365

Many software distributors have shifted to a subscription model to reduce the barrier to entry and increase long-term customer retention. However, Microsoft still offers both a subscription model dubbed Microsoft 365 and a license model for its Office software.

Microsoft 365 Family and Personal

Customers can choose between a personal plan or a family plan for Microsoft 365. Both subscriptions include identical software, however, the family plan enables up to six accounts to access.

Subscribers get a suite of Office products including Microsoft Word, Excel, Powerpoint, and Outlook. They also get OneDrive storage, Microsoft Teams, and access to Editor, a grammar and spell checking tool.

The personal plan includes only 1TB of OneDrive storage while the Family plan gets 6TB of storage to share between the six accounts.

Microsoft Office Home & Student

This is the separate single-use license for Microsoft Office apps. It's a one-time purchase that includes downloads for Microsoft Word, Excel, and Powerpoint only.

When a new version comes out, for example, Microsoft Office 2022 after 2021, license owners will not get the update. They must buy the license each time a new version is released.

The Microsoft Office Home & Student license allows the purchaser to install the included software on one device, be it a Mac or PC. It costs $149.99 and includes 60 days of support.

Microsoft 365 Business

Businesses looking for Office apps have a few subscription options to choose from. There's Business Basic, Apps for business, and Business Standard.

Microsoft Office Business Basic is the lowest price at $5 per user per month. It comes with access to the web and mobile versions of Office apps like Word, Excel, Powerpoint, and Outlook. It also includes access to Exchange, 1TB of OneDrive storage, and Sharepoint.

The Microsoft Apps for business subscription focuses on giving businesses access to the primary Office apps for $8.25 per user per month. It offers the premium desktop applications for Word, Excel, Powerpoint, and Outlook with 1TB of OneDrive. The PC-only apps for Publisher and Access are also included in the bundle.

The Microsoft Business Standard subscription is essentially a combination of the other two for $12.50 per user per month. It includes all of the cloud features of the Business Basic subscription with the premium desktop apps of the app bundle. You can compare the differences between the plans here.

Microsoft Office Professional

Like the Microsoft Office Home & Student license, the Microsoft Office Professional license is a one-time purchase for a single download of Microsoft's apps. This purchase includes desktop versions of Word, Excel, Powerpoint, Outlook, Publisher, and Access.

Customers must buy a new license after each new version is released. The Microsoft Office Professional license is available for PC and costs $439.99 and includes 60 days of support.

Commonly asked questions

Does Microsoft Office work on Mac?

Yes, there is a Mac version of each of the Microsoft Office apps available in the App Store. They are free to download but require an active Microsoft 365 subscription to use.

Is Microsoft Office Free?

No. Microsoft Office is available via a Microsoft 365 subscription. However, students with a valid education email can get a Microsoft 365 subscription for free.

Does Microsoft Office offer a free trial?

Yes, Microsoft Office apps all offer a one-month free trial when picking Microsoft 365 subscription options. Purchase is not required until the free trial ends.

How much is Microsoft 365?

Customers who need an individual plan can get Microsoft 365 for $69.99 per year. Family plans for up to six users cost $99.99 per year with 6TB of cloud storage included.