Bantam Boot Camp highlights versatility of Jeeps, off-road safety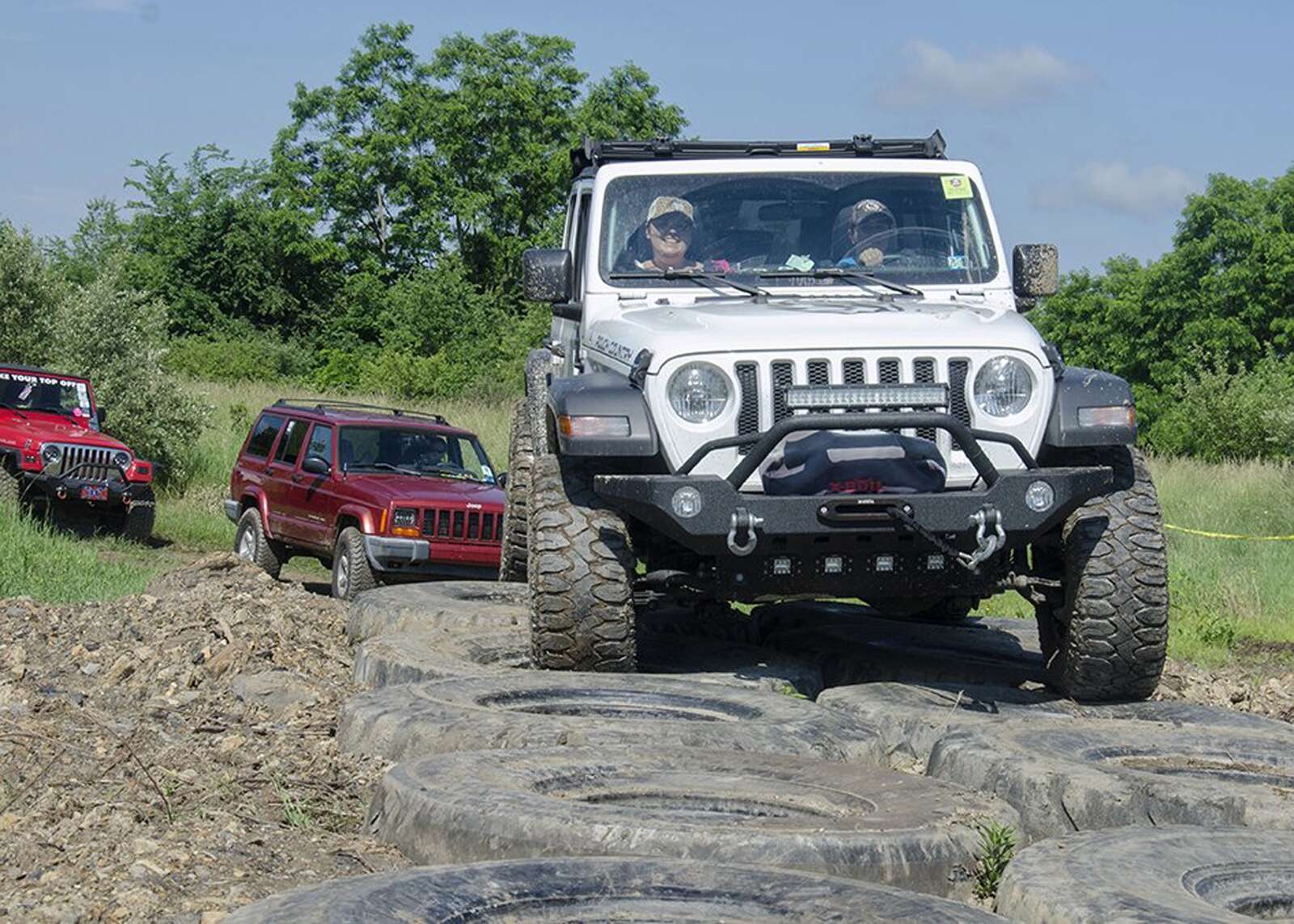 Bantam Boot Camp will take place at 1 p.m. Thursday, June 8, at the Bantam Quarry at Kildoo, 989 Kildoo Road, Portersville. The property is located just 4 miles away from Cooper's Lake Campground in Worth Township. Submitted photo

Off-roading isn't for everyone — but if you like being in nature, challenging your driving skills and don't mind a little dirt, you might want to give it a try.

By day, Janine Mickey is a teacher. She takes her Jeep to and from work. On the weekend, Mickey, who is also the manager of Bantam Boot Camp, drives her vehicle off-road.

Essentials and safety precautions will be taught in this introductory session designed for those who have not been off-road before.

"Jeeps are more than things to run on the road," Mickey said.

"It can go anywhere. It enables people to do what they need to do," said Patti Jo Lambert, Bantam Jeep Heritage Festival director.

The Bantam Boot Camp will take place at 1 p.m. Thursday, June 8, at the Bantam Quarry at Kildoo, 989 Kildoo Road, Portersville. The property is located just 4 miles away from Cooper's Lake Campground.

Those joining Bantam Boot Camp can expect to learn hand signaling basics as well as how to navigate a dirt trail.

"It's important when you're going over an obstacle that you know what the spotter is telling you. They can see things you can't," said Janine Mickey, Bantam Boot Camp manager.

Participants will learn how to interpret hand signals from spotters, how to use Jeep terminology and what to do in different off-road situations.

Whether they drive a Wrangler, Compass or Grand Cherokee, Jeepers of all sorts know that versatility was built into the vehicle's design from its inception as a military vehicle. Each activity in Bantam Boot Camp highlights what a Jeep can do.

"You can modify it, you can personalize it, and it has the capability to be a normal car," Lambert said. "People love that Jeeps give them that freedom."

The boot camp also is an opportunity for Jeep festival-goers to accomplish something "not everyone else can do," she said.

Obstacles will include a log bridge, tire playground, articulation course and blind hill. Participants also will watch a winching demonstration.

More details can be found on the Bantam Jeep Heritage Festival's website at bantamjeepfestival.com.

Share this article: Order Photo Reprints:

CNM boot camp course becomes recruiting resource for local startup
ALBUQUERQUE, N.M. (KRQE) – A local tech startup is now relying on CNM for future employees, all because of an impactful boot camp.
"I am actually quite involved with communication with CNM and Brian Rashap, who is the instructor for the boot camp," said Arjun Bhakta, a CNM graduate.
Based in Albuquerque, Telemetry Insight has its work cut out for them when it comes to finding quality employees.
They hire most of their employees locally through CNM Ingenuity's Internet of Things (IoT) program. It's a 10-week course teaching students how to create and code smart devices.
"We just kept coming back to CNM and, specifically, the IoT boot camp," said Chief Operations Officer Shelley Barratt.
That's where they found their current employee Arjun Bhakta.
"I had no coding experience before I started that program, and after that, I am able to deliver devices that are out in the field close to quantities in the hundreds," said Bhakta.
Bhakta is one of six CNM graduates employed at Telemetry, an ever-growing and changing company.
"Our founder and CEO Randy Krall is a serial entrepreneur here in Albuquerque, and he came up with the idea for an IOT device to go out in an oil field on top of pumpjack and start monitoring that pumpjack's motion," said Barratt.
That information is sent back to the office to study. This is the device being worked on. The goal is to save drivers money at the pump.
"We, then, can analyze and use towards helping make these pumps more efficient," said Barratt.
In the tech world, flexibility is key. Barratt said CNM has thrived at it, making the boot camp almost like a feeder program directly into the startup world.
"The subjects you are going to learn, throw you in the deep end, they will give you skill sets that let you do a lot in terms of the tech industry," said Bhakta.
The next camp session starts on June 19 and runs until August 25. The deadline to apply is June 12.
Amador R Rodriguez Juvenile Boot Camp
No result found, try new keyword!Amador R Rodriguez Juvenile Boot Camp is a public school located in San ... The student-teacher ratio is 1, which is better than that of the district.The student population is made up of 12% ...