EC-Council's Certified CISO Hall of Fame Report 2023 shows Cloud Security as Top Concern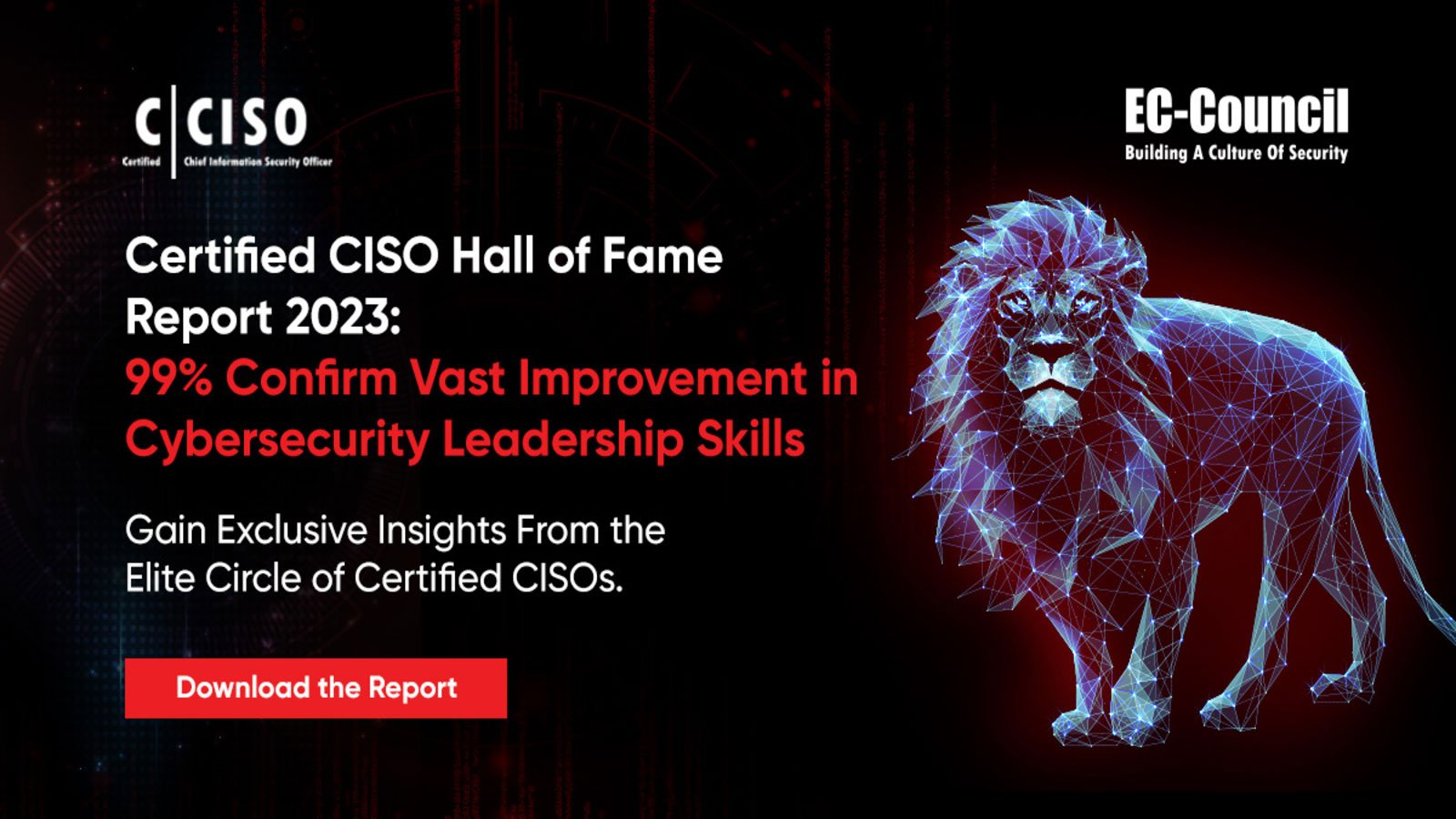 A survey of global cybersecurity leaders through the 2023 Certified CISO Hall of Fame Report commissioned by EC-Council identified 4 primary areas of grave concern: cloud security, data security, security governance, and lack of cybersecurity talent.
EC-Council, the global leader in cybersecurity education and training, released its Certified Chief Information Security Officer Hall of Fame Report today, honoring the top 50 Certified CISOs globally. This report reveals that approximately 50% of surveyed information security leaders identified cloud security as their top concern.
Findings from the report suggest the top cybersecurity concerns with which organizations struggle and highlight the need for implementing robust security frameworks with skilled cybersecurity professionals to effectively contain emerging threats.
On average, an enterprise uses approximately 1,295 cloud services, while an employee uses at least 36 cloud-based services daily. Cloud security risk is real for businesses.
Additional challenges identified in the report include third-party/vendor security management, network security, application security, endpoint security, rapid IT changes, business growth and expansion of hybrid work models, and an inadequate focus on cyber risk management.
In a accurate report published by IBM, the studied organizations experienced more than one data breach, reaching an all-time high frequency, and the cost of a data breach averaged USD 4.35 million. More than ever, businesses need strong, experienced cybersecurity leadership from individuals with reputable certifications.
The respondents to the survey were cybersecurity leaders who hail from every region of the globe, with the highest concentrations in Asia and North America. These professionals were employed primarily in technology, financial services, government, retail, healthcare, education, transportation and automotive, and entertainment and hospitality.
This Certified CISO Hall of Fame report and its accompanying survey is published annually to honor professionals from around the world for their exceptional leadership and professional contributions to the information security industry.
The awardees demonstrate an exceptional understanding of the ever-evolving cybersecurity landscape, promoting the values of innovation, thought leadership, and collaboration through their work.
"I am delighted to congratulate the newly inducted Certified CISOs into the 2023 Hall of Fame," says Jay Bavisi, President and CEO of EC-Council. "Their remarkable achievements and unwavering commitment to cybersecurity are truly inspiring. As industry leaders, they have been instrumental in driving innovation, enhancing security practices, and protecting organizations from ever-evolving threats. We take immense pride in their accomplishments and are confident that their expertise will continue to profoundly impact the cybersecurity landscape."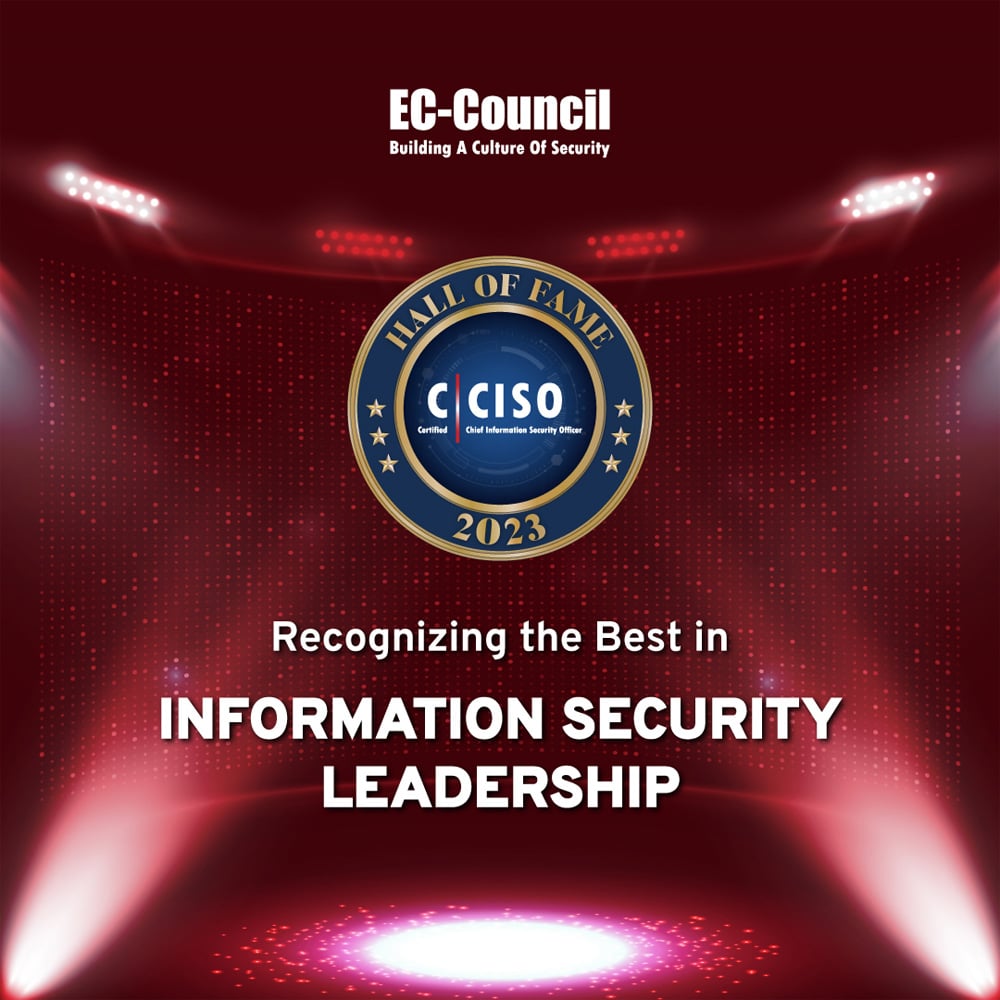 Considering the impact of information security, the Certified CISO Hall of Fame Report further highlighted the significant impact of the Certified CISO program in addressing these cybersecurity challenges.
A staggering 99% of Certified CISOs acknowledged substantial enhancement in their cybersecurity leadership skills through EC-Council's Certified CISO training, while 98% agreed that the certification helped strengthen their organizations' cybersecurity postures.
Notably, over 90% of Certified CISO inductees reported greater confidence in aligning security strategies with organizational objectives after obtaining the certification. To view the full report, including all survey data and references, please click here.
EC-Council's Certified CISO program closes the gap between critical business cyber leadership needs and the need for more experienced, seasoned security executive talent.
The Certified CISO program is dedicated to producing highly skilled executive leaders in cybersecurity by equipping them with powerful executive leadership knowledge and capabilities to design and implement robust security portfolios of services and technologies to protect critical operations.
To further accelerate talent toward leadership roles, EC-Council has also introduced the Associate CCISO program. This program enables emerging security professionals with at least 2 years of experience in cybersecurity to understand the roles and responsibilities of security executives and guide their career paths to attain industry leadership positions.
This powerful program delivers an approach that enables emerging security professionals by giving them a strong view of the path to their futures as cyber leaders. Associate CCISOs are provided with the knowledge of the professional experience they need to gain or further develop within their current professional capacities.

EC-Council invented the Certified Ethical Hacker program. Founded in 2001 in response to 9/11, EC-Council's mission is to provide the training and certifications apprentice and experienced cybersecurity professionals need to keep corporations, government agencies and others who employ them safe from attack.
Best known for its Certified Ethical Hacker program, EC-Council today offers 200 different pieces of training, certificates, and degrees in everything from Computer Forensic Investigation and Security Analysis to Threat Intelligence and Information Security. An ISO/IEC 17024 Accredited Organization recognized under the U.S. Defense Department Directive 8140/8570 and many other authoritative cybersecurity bodies worldwide, the company has certified over 3,00,000 professionals across the globe.
Trusted by seven of the Fortune 10, half of the Fortune 100, and the intelligence communities of 150 nations, EC-Council is the gold standard in cybersecurity education and certification.
A truly global organization with a driving belief in bringing diversity, equity and inclusion to the modern cybersecurity workforce, EC-Council maintains 11 offices in the U.S., the UK, India, Malaysia, Singapore, and Indonesia.
Sponsored and written by EC-Council
EC to monitor SCC polls through CCTV: CEC
National
EC to monitor SCC polls through CCTV: CEC

All polling stations in Sylhet City Corporation will be monitored by closed-circuit TV cameras (CCTV), said Chief Election Commissioner Kazi Habibul Awal on Saturday.

"The election will be monitored through CCTVs from Dhaka. If a voter faces any kind of trouble while casting a vote, you will raise your voice. We will take measures from there," he said.

The CEC came up with the remarks while speaking at a view-exchange meeting over the SCC election at Jalalabad Gas Auditorium in Mendibagh of the city.

Regarding EVM, Habibul Awal said, many people talk a lot about EVM but its testing ended long ago. "In the EVM system, no one can vote for others. If someone can prove it, I will take liability for this."

"So you go to the polling stations on time and cast your vote", the CEC urged.

He also warned that the candidature will be canceled if anyone breaches the electoral code of conduct. "You won't do anything which will invalidate your candidature," he said.

The CEC said that the way of election campaign may change in the future. Information Technology will add to it and candidates will campaign on social media platforms. "We have to think about how to bring change in the pattern of campaign in the future", he said.

Sylhet Divisional Commissioner Dr. Muhammad Mosharraf Hossain presided over the meeting while Election Commission Secretary Md Jahangir Alam, Sylhet Metropolitan Police Commissioner Ilias Sharif, Sylhet Deputy Commissioner Mojibur Rahman, Sylhet Regional Election Officer and City Corporation Election Returning Officer Faisal Quader were also present.

A total of 8 mayoral and 360 councilors candidates are competing in Sylhet City Corporation elections slated for June 21.

A total of 4,87,753 voters are expected to cast their votes using the Electronic Voting Machines (EVMs) at 190 polling centres in the city.



Council formalizes police, homeland security connection on human trafficking
An informal relationship Columbia Police Department has with the U.S. Department of Homeland Security on human trafficking and child exploitation cases was formalized Monday by the Columbia City Council.
A detective who already works on human trafficking-type cases will join a Homeland Security task force thanks to a 6-0 council vote. Mayor Barbara Buffaloe was absent Monday due to her attendance at the U.S. Conference of Mayors annual meeting in Columbus, Ohio.
This investigative partnership will bring federal resources to the department, generally covering overtime reimbursements for the detective, said Chief Geoff Jones.
From 2021: 'I just did what any person should do' — Columbia truck driver's savvy gets woman out of sex trafficking
While the task force is under the auspices of Immigration and Customs Enforcement, the officer "will have no authority or responsibility to enforce any administrative violations of immigration law," per additional information provided by Jones to the council.
"We don't deport people. We don't help with that," Jones said.
He wasn't sure if the officer's position on the task force would lead to additional departmental training, he said, answering a question from Ward 4 Council Member Nick Foster.
"Typically when we partner with a different federal agency it opens up training opportunities for everyone. We've had that experience with the (Drug Enforcement Administration), in particular and (Alcohol, Tobacco, Firearms) and the FBI," Jones said. "I would anticipate it would open up some training, but it also will deliver our detective better experience and better access to resources to be better informed as to what training to recommend to us, even if we are the ones looking for that training."
More: Human trafficking 'didn't just suddenly happen' in Columbia, says victim advocate
Residents who voiced concern in May leading to the tabling of the agreement are pleased with the language in the agreement that better lays out the investigative scope for task force membership. It didn't completely eliminate concerns, though.
Story continues
"The practice of so many memorandums of understanding with so many different agencies takes policing further away from public accountability. They deliver other agencies broad leeway to use Columbia Police Department tools and (the department) broad leeway to use those agencies' tools," said Anthony Willroth, with Hold CoMo Accountable.
While the Homeland Security memo ensures the Columbia Police Department detective does not participate in immigration investigations, it does not necessarily mean that Homeland Security won't conduct deportations within Columbia, said resident Chriss Jones.
"There is nothing in the city ordinance preventing police from working with ICE on deportations," she said.
City Attorney Nancy Thompson clarified from a question from Foster that if Homeland Security changes its practices, they would not apply based on how the MOU is worded.
"Correct, The MOU controls," she said to Foster.
Charles Dunlap covers local government, community stories and other general subjects for the Tribune. You can reach him at cdunlap@columbiatribune.com or @CD_CDT on Twitter. Subscribe to support vital local journalism.
This article originally appeared on Columbia Daily Tribune: Police detective to join federal human trafficking task force