BuCor resumes visitation at NBP, CIW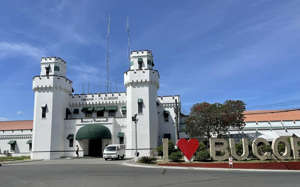 Bureau of Corrections thumbnail NBP thumbnail Photo: Ian Cruz

The Bureau of Corrections (BuCor) on Thursday announced that visitation has resumed at the New Bilibid Prison (NBP) and the Correction Institute for Women (CIW), more than two weeks after several persons deprived of liberty tested positive for COVID-19.

According to the BuCor, both facilities are now free of COVID-19 cases.

CIW Superintendent Elsa Alabado, however, said that one CIW personnel is still undergoing isolation but will be back to work this week.

Meanwhile, BuCor Health and Services Director Maria Cecilia Villanueva said visitors at the NBI are still required to present a negative antigen test result taken 24 hours before the visit. The wearing of face masks is also mandatory.

Visitation is open from Wednesday to Sunday, from 7 a.m. to 3 p.m.

According to Villanueva, PDL commanders of the maximum security compound also requested BuCor to assign a room at the new NBP hospital for teleconferencing or virtual consultations.

She said this is still subject to deliberations.

The commanders present were also subjected to random drug tests, for which they all tested negative. — RSJ, GMA Integrated News

This article BuCor resumes visitation at NBP, CIW was originally published in GMA News Online.



What are you googling? - latest topics, trends people are searching
No result found, try new keyword!The Aravaipa Hotshots are a group of about 20 members in Southeastern Arizona. They are mostly veterans who now focus on battling wildfires. "You're thinking constantly about how much range ...

Sarah Ferguson reveals 'no topic is off the table' in upcoming podcast
Sarah Ferguson is gearing up to release her podcast series after delving into being an author and a film producer.
The Duchess of York tweeted out the announcement about the show called, Tea Talks With the Duchess & Sarah.
She wrote, "It's about time we spilled the tea… our brand new podcast 'Tea Talks with the Duchess & Sarah' is out next week on all streaming platforms. Subscribe now at the link in my bio. [teapot emoji].
Along with Fergie, the show will be co-hosted by entrepreneur Sarah Thomson, who founded First News, a news organisation aimed at children. The two hosts will be talking about the "highs and lows of everyday life."
Per the podcast's synopsis, the show promises "candid conversations" as the two Sarahs "spill the tea on the roller coaster of life."
Moreover, the description also stated that "No topic is off the table."
"With a cup of tea in hand each week you'll hear about the weeks hot topics, as the hosts share their thoughts and perspectives on everyday issues. The duo will also be joined by special guests and share personal insights to listeners' dilemmas," the teaser revealed.
"These two great friends will approach everything with infectious enthusiasm and a healthy dose of humour. The Duchess and Sarah promise to leave no stone unturned, and no biscuit un-dunked."
The podcast is expected to air weekly, with the first episode debuting next week.